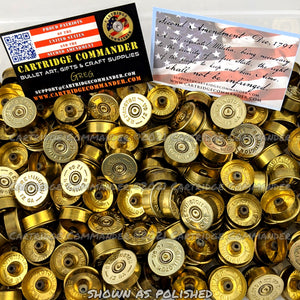 Remington 12ga empty shotshell (brass-colored steel) headstamps. Perfect for ammo/bullet art/crafting to make items such as magnets, picture frame accessories, home décor projects, guitar accessories and more!
We offer these in packs of 10 or 25 or 40, unpolished or polished, with or without primers. This allows you multiple ways to order them so your order is tailored to your needs, saving you time on your projects or products!
Dimensions:
7/8" width (across the face) x 5/16" height
Processing time:
These are a supply/wholesale item so they fit our company processing times. When your total order of items are;
Under 100 pcs; 3-5 business days
Over 100 pcs; 5-7 business days
Over 200 pcs; 10+ business days
*Excludes holidays/observations (when shippers are closed).*
If you need much larger amounts or other brands, please contact us. We try to keep a little bit of stock stored (500k+ pcs) of spent casings (pistol, rifle, shotgun) because some times our clients need large custom numbers (thousands at a time) or specific brands. So we're happy to discuss such with you and make a custom listing to fit your needs.
I think this will be a good addition to the collection that CC does