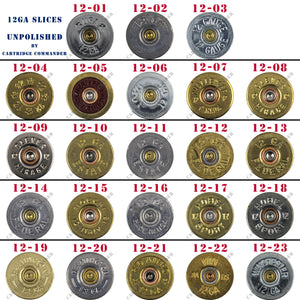 This is a 10-pack of 12 gauge shotgun shell/hull thin-cut slices (heads/headstamps). These slices are precisely cut and have a clean but slightly textured finish which is perfect for gluing (as most adhesives recommend a textured surface for best adhesion).
We offer these slices in various manufacturers and two finishes; Unpolished/Polished, as well as With spent primer, or Deprimed!
SIZE
7/8" (23mm) x 3/32" (2mm) thick. Each shell can vary slightly.
*We rounded the width up ever so slightly for variations in mfg & for tight tolerances should you be putting them in something.

SHIPPING
USPS First-Class OR USPS Priority. Please allow up to five (5) business days per hundred to process & make your order before shipping - as each shell slice is made per your order. We know this slows down the process some, but it increases the quality!

If you want other quantities/antique/rusty or other shells not listed, please contact us.

Satisfied Customer.
I've placed several orders for the 12 gauge slices and am always satisfied with the product and shipping time. This time I used them to make shoe charms! Thanks Cartridge commander!
Great product.
These are great and perfectly smooth.
Overall Success
I would like to share my overall experience with cartridge commander ~ i have a few customized requests and greg is always ready to assist in any way possible. he is knowledgeable in areas that i appreciate hie expertise and have found this company to be very trustworthy!
12ga Shot Shell slices
I enjoy restoring vintage and classic cars and discovered that the 12ga slices make excellent and very dramatic washers in areas where they are very visible. When the slices are deprimed there is a perfect size hole for a machine screw and the hole is even countersunk for the screw head. My use is purely decorative and these slices would not be suitable to support loads but they are still very sturdy. I am very pleased with the size variety and brass vs. shiney options. I have made multiple purchases and all have been received very promptly in excellent condition. I have just discovered these so pictures of my work follow later.