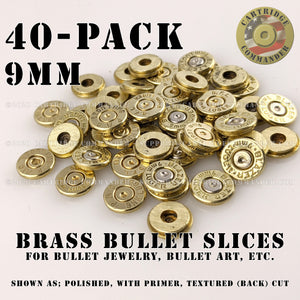 40-pack of 9 MM thincut bullet slices that have been fired/shot & have textured backs. The textured back is ideal as it allows adhesives to stick better & you do not have to prep each one before gluing them!
They can be purchased as unpolished or polished & with the spent primer or without (deprimed). Perfect for making jewelry (bullet earrings, bullet necklaces, pins/tacks, bullet bracelets, bullet rings, buckles, etc.). They can be glued to metal, wood, plastic, cloth or any other thing you want, to create any bullet project you can think of!! You could use the hole in the deprimed slices for crystals, tying, etc. Create great gift ideas for any country guy/gal, veteran, hunter, shooting enthusiast, biker, even great for steampunk art!
All of our bullet brass goes through a multi-stage cleaning process, (as well as polishing & buffing if chosen) before it is shipped out.
SIZE
0.389" (25/64") (9.88mm) wide x 3/32" (approx. 2mm) thick. (Each shell can vary a few thousandths).
Primer hole (if ordering as deprimed): 0.1670" (21/128") (4.24mm).

PROCESSING
Please allow up to five (5) business days per hundred to process & make your order before shipping - as each shell slice is made per your order. We know this slows down the process some, but it increases the quality!

SHIPPING
Shipping times (in-transit) vary & depend on the weather as well as the status of the carrier. You can/should check their site for any possible delays.
RETURNS/EXCHANGES
Should a problem arise & we agree on a return/exchange, you will need to contact us once you receive your order (the email address will be in your package). Then ship the item(s) back in their original (unused) condition with the original package. Once they are received & inspected, you will be emailed about your refund/exchange.

Sold by caliber (various mfg & primer color can happen). This is a mixed MFG pack. We can not always guarantee the same mfg/primer color for a complete order unless sold as such. However, we do what we can to make MATCHING PAIRS. If you need a full matching set or specific matching numbers, contact us so we can work that out for you.

If you want other quantities/antique/rusty or other shells not listed, please contact us.
Best Bullet Slices Anywhere!
These are absolutely top quality! I've been a repeat customer from my very first order. I'd recommend these to anyone who appreciates quality and detail!
Another perfect order!
I have been buying bullet slices from Cartridge Commander for a few years now. Amazing work! Perfect every time!
Beautiful Product
My 9mm cartridge heads are absolutely beautiful! They're smooth and shiney and perfect for my "bullet jewelry". I've purchased from other sellers in the past and these are by far the best! Definitely the best you can buy!
Perfect
Great product and quick communication when I had a question.
Excellent Once Again!
This is like my 5th order from Greg and I'm always a happy customer! Thanks again!