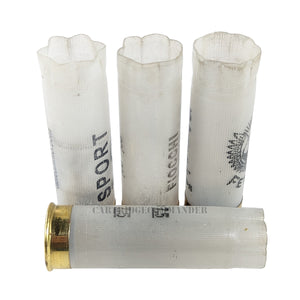 Looking for TRANSLUCENT WHITE 12 gauge empty shotgun shells for making shooting craft décor, shotgun shell wreaths, Christmas lights, country/shotgun shell wedding boutonnieres, or the hundreds of other items possible? CartCMDR has got you covered!
These are authentic, once-fired, MIXED BRAND, 12 ga. shotshells that are COLOR: TRANSLUCENT WHITE. The head stamps (heads) are mixed but mostly brass/gold.
Note about delivery; These are boxed loose, in boxes up to 13 inches square. Keep an eye out for them on the day of delivery so you can accept them/get them inside asap.

Looking for other colors? Check these out
12 ga. Green hulls
12 ga. Maroon hulls
12 ga. Mixed Color hulls
12 ga. Red hulls
12 ga. Translucent White hulls

These casings/hulls are sold for crafting purposes only (bullet jewelry, decorative designs, trench art, etc.) and NOT for making ammo/ammunition. These are NOT live or primed ammunitions. They are spent casings/hulls that contain NO explosive chemical(s), NO gunpowder, NO projectiles ("bullets"), etc. They can NOT explode, go off, etc. even if thrown into a fire!
---
Empty casings/hulls are not intended for use as ammo, or food/drink use.
Keep away from babies and small children.
Due to the item itself, these can not be shipped internationally at this time.
There could be dents, dings, very light color changes or other very small defects. They are boxed by count, with a few extra thrown in.
*once-fired is an industry term
---
 We would love to see the end result of your work! Tag us on social media
#CartridgeCommander / #CartCMDR

Facebook / Instagram / Pinterest / TruthSocial / Twitter / YUDUSocial
The Second Amendment in the Bill of Rights ("A well regulated Militia, being necessary to the security of a free State, the right of the people to keep and bear Arms, shall not be infringed.") was ratified for our Constitutional Republic on Dec. 15, 1791.
Awesome
Quick shipping good price