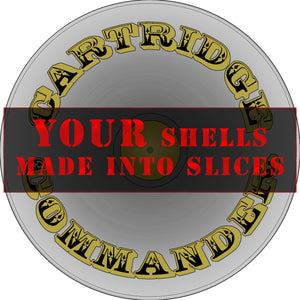 Do you have empty bullet casings/cartridges/shells, but don't have the time, desire or equipment to work them? Let Cartridge Commander save you time & wear/tear on your tools by doing it for you so you can get back to your designing & working.
Priced per set of 50, so buying a qty of (1) = 50 slices, (2) = 100 slices. (Excludes .50BMG. Please contact us for cutting your BMG's).
A few simple steps:
1: Pick your style/quantity & purchase.
2: Count & mail your shells to our USPS P.O. box (I do not have UPS, so they must be shipped in a way the USPS P.O. will accept them - UPS WILL NOT SHIP TO A P.O. BOX). What type of shipping you choose to send them (First Class, Priority, etc), is up to you, as I am not responsible for that. Ship them to:
CartCMDR
P.O. Box 31161
Knoxville, TN. 37930-1161
United States
3: E-mail us the tracking number so we both can track the package.
That's it, you're done! Now you have more time to get other things designed, made, orders sent out, etc., while your shells are being cut into slices!

Once we receive them, we will contact you confirming delivery. As soon as your shells are finished, they will be shipped back to you. These slices take 1-2 weeks processing (from purchasing to receiving them) since there is an estimated time of 1-3 days shipping them here, 3-5 business days work time & 1-3 days shipping them back. The actual time will vary slightly due to quantities & backlog. However, they will go out as fast as possible!
"Polished" only available on BRASS pistol/rifle casings. Nickel plated pistol/rifle casings are generally coated too thin to polish nicely. So if you are sending nickel pistol/rifle casings, select "Unpolished", as they will not be polished. However, I can tumble clean them for you if you want to replace 'polished' for 'tumbled' with nickel. Nickel shotshells (only) can be polished.
A few simple rules:
* All shells must, Must, MUST be shot/fired/empty/inert, no exceptions!! Should any shells show up not fired, they will not be worked on.
* Excess/Overage count in shells, will not be worked on nor returned unless previously agreed upon in an e-mail prior to purchasing.
* All drops/shavings/etc, are considered scrap & will not be returned.
* All shells must be straight-walled, no "shouldered"/"bottlenecked" calibers (with the exception of .223/5.56 & .50 BMG).
* Nickel brass (pistol/rifle) will NOT be polished. If you're sending all nickel brass, select "UNpolished". If you're sending a mix and want the brass polished, then select "Polished"...just know that the nickel brass slices will NOT be polished.

Don't have your own shells but want some bullet slices? We can supply the brass for your bullet art/jewelry as well! Here you go. Commonly cut calibers in a variety of quantity packs: .50 BMG, .45 AUTO, .38 SPL, 9mm LUGER, .223 REM/5.56 NATO, 12 gauge & 20 gauge shotgun shells.
Perfect every time!
I have been purchasing bullet slices and having my own bullets cut for several years now. I couldn't ask for a better product! They are perfect every time!
Amazing work !!
I absolutely love cartridge Commander, I use him for all my bullet slicing needs, It allows me to do custom orders for customers and get the unique calibers that I need. the work is done very quickly, and he is great with working with all my requests. The work is beautiful too!! I don't know how he gets the letters and numbers to pop so well. They make absolute beautiful pictures with my settings. He quickly responds to emails and answers all my questions
Product came on time, even during the holiday season and impacted postal service. I am very pleased with the finished product and am already packaging up my next order of my bullets cut into slices. Timely and responsive service.
Really nice work! Clean cuts, beautiful polish - will definitely get more!